My Studio with work in progress
OK, so you can't actually see me working in this picture. Since I live alone there isn't anyone around to take pictures of me doing things. But here is my studio in its current state of disarray. It gives you an idea of how I work. When I'm working on canvas I use my easel and since I'm right handed I like to set my paint and water to my right. Then on my table to the left is my laptop. I listen to things on youtube and other places or sometimes just music cd's while I paint. And I use my laptop to see my photo reference, since my own camera is digital and my clients usually send me their pictures as email attachments. Here you can see me working on my newest commission, Calvin.
And here's a close up of Calvin.
Calvin, 18x24 acrylic on canvas, work in progress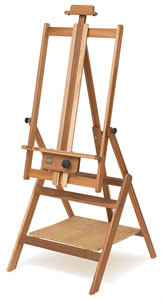 This is the easel I am using in the first photo. I bought it from Dick Blick and I am really enjoying it. You can tilt your painting from completely horizontal (very handy for watercolor washes or varnishing!) to just past vertical, so if you are doing pastel, your pastel dust will fall off and you don't have to be blowing on it all the time. It will also fold up flat, very handy for small spaces.
I purchased mine a couple of years ago and have been extremely satisfied with it. My one minor tiny complaint, (which will only apply if you live in the desert like me!) is that when the air is very dry (like less than 10% humidity) is the wood shrinks a bit and the bottom cross bar the canvas rests on comes a bit loose. My remedy has been to put a bit of masking tape in the slot to help close up the gap and increase the traction. This works pretty well. Otherwise a fab easel at an affordable price!